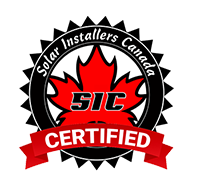 About Rizon Solar: At Rizon Solar, we are a family company locally based in Lake Country, BC. We are outdoor people who share a love for the wonders of nature. We are inspired by a sustainable future for generations to come. Consequently, from these two sentiments, our passion for solar energy has grown.
Our formally trained solar expert and journeyman electrician complete every stage of each project personally, from initial consultation to final check. Owner and lead solar installer, Terry, is Gold Level Certified from Solar Installers Canada, the highest level of training available. You may also meet Karlin, the office manager and financing liason.
We love to teach our clients about how solar energy works, the benefits and options available. Above all, we work together with our clients to design a solar energy system that meets their needs. To ensure our projects are the most advanced in the industry, we are continuously seeking out the newest technology and most cutting-edge products to offer our customers.